Built up felt roofing in Stockport
Long established in the area, we are on hand to ensure your property is up to scratch. We provide repair services as well as offering a full installation.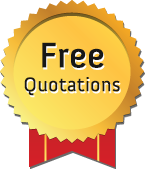 Felt roofs are a widely-recognised method of weatherproofing your property. Usually applied to flat surfaces, the coverage is typically constructed of three sheet layers that form a dense, watertight barrier against the elements. Each layer is attached to the next using heated bitumen and other adhesives to form a powerful bond and an impenetrable seal.
Why call us?
We're long established in the area, and you can have confidence in our workmanship and attentiveness.
Customer friendly and knowledgeable team so when you call us, you can expect sound advice
A long history of repair and maintenance services on all roof types and for all sorts of repair services
No obligation quotation at affordable prices, so don't delay, call us to see for yourself
Modern adhesives and the felt itself have advanced built up roofing technology so this method now compares with other methods for safety, security and aesthetics to give you complete confidence. As Stockport receives a lot of rain, we ensure that the bond is waterproof giving maximum confidence.
Repair service
If you already have a built up felt roof anywhere in the Stockport area that requires attention and maintenance, contact us to see how we can help. With many years' experience of installing all types, we offer you a repair service to be proud of and will make good any damage so that your property is secure.
Call us on 0161 433 7850 and let us know how we can help.