Your GRP fibreglass roofing experts in Stockport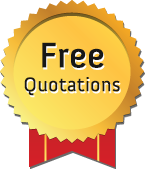 We are well-versed in all types of roofing and can offer both repairs and full installation or refit of your GRP fibreglass. GRP (Glass Reinforced Polyester) is also known as glass fibre, and is a single ply laminate that can be used for roofs and balconies. You can also use it to protect exterior walkways making an attractive addition to your garden and external space.
GRP is formed of polyester resin and strengthened by the inclusion of glass fibre to produce a watertight and weatherproof finish. This type of roof is very popular throughout the Stockport area as owners seek to take advantage of its versatility and pleasing appearance.
Benefits of working with us
Complimentary advisory service - we'll make sure you get the right solution to suit your circumstances
Thorough site visit with complete investigation to ensure customer satisfaction
Sensible, affordable prices - our reputation is important to us and we aim to please
Highly durable and fire-retardant it is well suited to cope with all weather types. It comes with a long guarantee and can add significant value to your Stockport property as well as providing extra outdoor space.
Various styles
GRP fibreglass comes in a wide range of colours and we can apply a variety of finishes to match your property style and type. We can also add character to your residence or commercial property by applying GRP fibreglass to various styles such as flat, pitched or valley.
This type of cover is usually maintenance-free but if you find your roof is in need of repair, please call us on 0161 433 7850.