Flat roofing in Stockport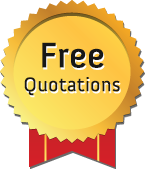 There are several types of flat roof available and we have a thorough understanding of the methods applied in each. Despite Stockport receiving high annual rainfall, flat roofs are seen by many in the area as a cost-effective and durable route to a watertight and eye-pleasing roofing finish.
With an average lifespan of 20 years, flat roofs will only need replacing twice or three times during a typical owner's lifetime. With the huge improvements in modern materials, their quality and durability gets better and better.
Why you should choose us
There are different types of flat roof and we are experts at installing and repairing most of them. Our experience is second to none and we know you'll be satisfied with our work.
Many years experience at fixing, repairing and installing all types so don't delay, call us today
Initial site investigation followed by thorough and honest advice as to what work is needed
Free, no obligation quotation at sensible prices and work carried out with great attention to detail
Providing confidence
While flat roofs are much more dependable than they once were, they do still have a weaker reputation among property owners. We use the latest in modern materials and are up to date with the latest techniques. You can have security and peace of mind when you call us.
We guarantee that our installation and repair service will leave you delighted and we can show you many happy customers around Stockport. Call us to see how we can help you on 0161 433 7850.