Soffits and fascias in Stockport
Soffits and fascias protect your property from the worst of the weather by keeping water away from the joist ends of your roof. If your soffits and fascias are feeling the strain, we will happily visit you anywhere in the Stockport area to advise on the best course of action. Ask for more information.
Keep the weather out
As the first line of protection against rain - something we have to deal with a lot in Stockport - it is imperative that soffits and fascias are well-maintained to ensure a watertight seal. This prevents internal water penetration, which causes damage to the inside of the building and may result in structural weakness.
Quality, customer-focussed team well equipped to perform repair and maintenance services
Attention to detail and long experience provides confidence to customer so you can rest easy
Free, no obligation written quotation for all roofline work, however big or small your need
Quality roofline products, fitted brilliantly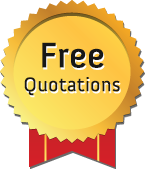 We have provided quality installation services for many years and can advise on the best solution for you. Available in either uPVC or wood, we find uPVC is popular as it doesn't require repainting or much in the way of maintenance apart from the occasional wipe down.
We'll gladly provide a free, no-obligation quotation and won't push you to make a decision unlike some firms. Your satisfaction matters - so much so that we guarantee it.
Call us on 0161 433 7850 to find out more about how to protect your commercial or residential property.